Article Type

Webinar

Published on
Building a Strong Legal Foundation for Your Business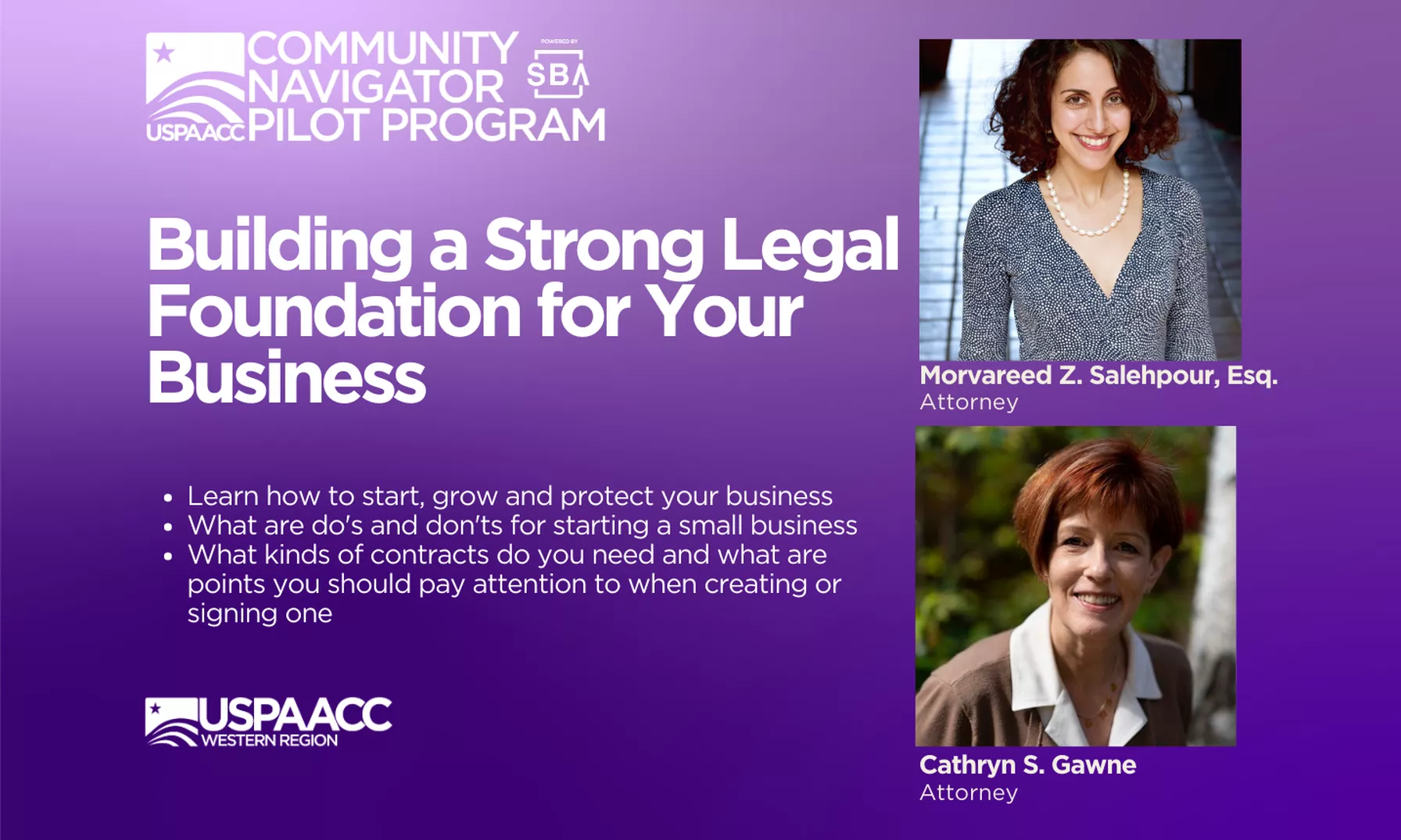 On Dec8, 202210:00AM ‑11:00AMUSPAACC West­ern Chap­ter held a webi­nar ​"Build­ing a Strong Legal Foun­da­tion for Your Busi­ness". 26 peo­ple attend­ed. USPAACC West­ern Chap­ter held this webi­nar to let small busi­ness own­ers have a clear idea on how to start a small busi­ness, also let the small busi­ness own­ers know what needs to be paid atten­tion to. Law and reg­u­la­tions may sound scary but if small busi­ness own­ers have basic knowl­edge or con­sult an attor­ney before mak­ing the deci­sion. It will save a lot more money.
Learn how to start, grow and pro­tect your business
What are do's and don'ts for start­ing a small business
What kinds of con­tracts do you need and what are points you should pay atten­tion to when cre­at­ing or sign­ing one
Speak­ers:
Mor­va­reed Saleh­pour, Esq.
Mor­va­reed Z. Saleh­pour is Man­ag­ing Attor­ney of Saleh­pour Legal, a law firm spe­cial­iz­ing in assist­ing entre­pre­neurs, star­tups, and busi­ness­es in cre­at­ing and nego­ti­at­ing the strongest con­tracts and tech trans­ac­tions for scal­ing and pro­tect­ing their busi­ness­es. She also coun­sels them on issues involved with ser­vices and prod­uct fea­tures and launch­es, intel­lec­tu­al prop­er­ty licens­ing and pro­tec­tion, data and pri­va­cy rights, and cyber­se­cu­ri­ty issues. She has rep­re­sent­ed clients across the nation rang­ing from entre­pre­neurs and small busi­ness­es to For­tune 500 com­pa­nies and works in a vari­ety of indus­tries. Ms. Saleh­pour is a grad­u­ate of UCLA and UCLA School of Law. Mor­va­reed is also Past-Pres­i­dent of the San­ta Mon­i­ca Bar Asso­ci­a­tion, Board Mem­ber and Career Chair for the UCLA Alum­ni West­side Bru­ins Net­work, Board Mem­ber and Co-Event Chair of UCLA Law Women LEAD, and a reg­u­lar speak­er and writer on busi­ness and tech law issues.
Cathryn Gawne, Part­ner at M&H, LLP
Cathy has over 20 years of expe­ri­ence in coun­sel­ing ear­ly and mid-stage pub­lic and pri­vate com­pa­nies on growth strate­gies such as rais­ing cap­i­tal through pri­vate and pub­lic equi­ty and debt financ­ings. She pro­vides guid­ance on cor­po­rate gov­er­nance and SEC report­ing issues, coun­sels entre­pre­neurs who are start­ing new busi­ness­es, and helps clients grow their busi­ness­es through strate­gic part­ner­ships, joint ven­tures and merg­ers and acqui­si­tions. In one aspect of her corporate/​securities prac­tice, Cathy rep­re­sents high net worth investors, entre­pre­neurs and C‑level exec­u­tives faced with com­plex and far-reach­ing deci­sions and trans­ac­tions involv­ing their busi­ness invest­ments and assets. Cathy's clients are lead­ers in Sil­i­con Val­ley high tech­nol­o­gy indus­tries who seek her unique blend of exper­tise in secu­ri­ties law and inde­pen­dence from con­flict, for thought­ful advice focus­ing on pro­tect­ing their indi­vid­ual inter­ests in crit­i­cal trans­ac­tions, such as financ­ings and mergers/​acquisitions. Cathy holds an A.B. from Stan­ford Uni­ver­si­ty and a J.D. from the UCLA School of Law. She is a mem­ber and the cur­rent Sec­re­tary of the State Bar of Cal­i­for­nia Busi­ness Law Section's Cor­po­ra­tions Com­mit­tee, and a mem­ber and for­mer Chair of the Board of the Sil­i­con Val­ley Chap­ter of the Asso­ci­a­tion for Cor­po­rate Growth. She has been named by the Sil­i­con Valley/​San Jose Busi­ness Jour­nal as a Woman of Influ­ence, and has received a YWCA Trib­ute to Women in Indus­try (TWIN) Award from the YWCA of Sil­i­con Val­ley. For the past nine years, as a proud mem­ber of Stan­ford University's 12th Man Club (a group that secures sum­mer employ­ment for mem­bers of the Stan­ford Uni­ver­si­ty foot­ball team – Go Car­di­nal!), Cathy has spon­sored and men­tored a num­ber of foot­ball play­ers as sum­mer law clerks, sev­er­al of whom are now prac­tic­ing attorneys.