Article Type

Webinar

Published on
Business Model Generation
The webi­nar was host­ed on Fri, Octo­ber 28, 2022, 12:00PM – 2:00PMEDT and 6 peo­ple attended.

About this event
This work­shop will walk you through cre­at­ing a 1‑page busi­ness plan (can­vas) using the inter­na­tion­al­ly uti­lized busi­ness mod­el can­vas, devel­oped by Strat­e­gyz­er. The busi­ness mod­el can­vas is a great tool to help you under­stand a busi­ness mod­el in a straight­for­ward, struc­tured way. Using this can­vas will lead to insights about the cus­tomers you serve, what val­ue propo­si­tions are offered through what chan­nels, and how your com­pa­ny makes money.
Agen­da Items:
What are the key con­cepts of busi­ness modeling?
What is busi­ness mod­el canvas?
What areas of a busi­ness do you feel the entre­pre­neur should take care of?
Which spe­cif­ic niche cus­tomer seg­ments are you serv­ing in your business?
What do you offer your cus­tomers which is valuable?
What channel(s) do you use to deliv­er prod­ucts or ser­vices to your customers?
What type of rela­tion­ship have you devel­oped with your customers?
How much rev­enue does your busi­ness generate?
What are the key resources your busi­ness must access and activ­i­ties your busi­ness must perform?
Who are the key part­ners your busi­ness relies upon?
Which costs will your busi­ness incur as over­head or as pro­duc­tion increases?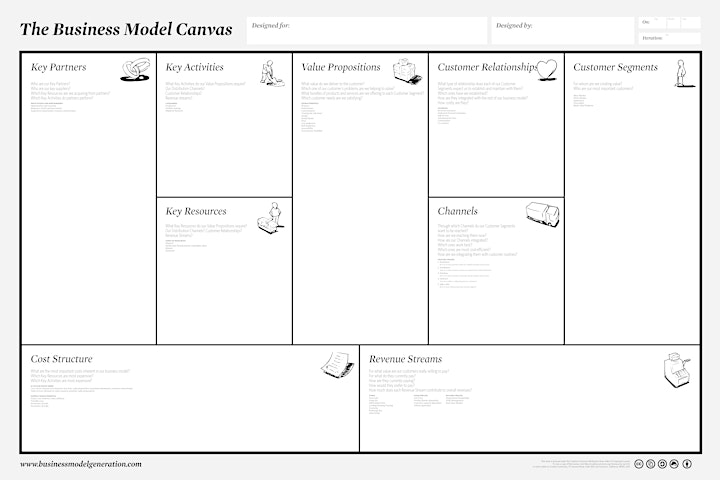 Dr. Bri­an Hunter — Assis­tant Pro­fes­sor of Entre­pre­neur­ship and Mar­ket­ing, Depart­ment of Busi­ness, LaGrange College
Dr. Bri­an Hunter serves as a Glob­al Vis­it­ing Fac­ul­ty mem­ber in Mexico's Tec­no­logi­co de Mon­ter­rey (ITESM), where he began work­ing as a Vis­it­ing Pro­fes­sor of Entre­pre­neur­ship after com­plet­ing a Ph.D. in Behav­ioral Finance and Devel­op­men­tal Eco­nom­ics from the Con­sumer Sci­ence Depart­ment at Pur­due Uni­ver­si­ty. These appoint­ments at Pur­due Uni­ver­si­ty, Mexico's ITESM Uni­ver­si­ty, and LaGrange Col­lege have allowed him to teach cours­es in mul­ti­ple con­tent areas includ­ing Entre­pre­neur­ship, Strat­e­gy, Eco­nom­ics, Mar­ket­ing, Entre­pre­neur­ial Finance, Cor­po­rate Finance, Inter­na­tion­al Busi­ness, and Per­son­al Finance.
Teach­ing an eclec­tic mix of sub­jects and work­ing close­ly with hun­dreds of stu­dents from all aca­d­e­m­ic back­grounds has giv­en him a broad knowl­edge to draw from to edu­cate and train USPAACC Southeast's clients on busi­ness plans, mar­ket fea­si­bil­i­ty, finan­cial via­bil­i­ty, oper­a­tions man­age­ment, and legal structures."