Article Type

Success Story

Published on
Fanny Crystal Jewelry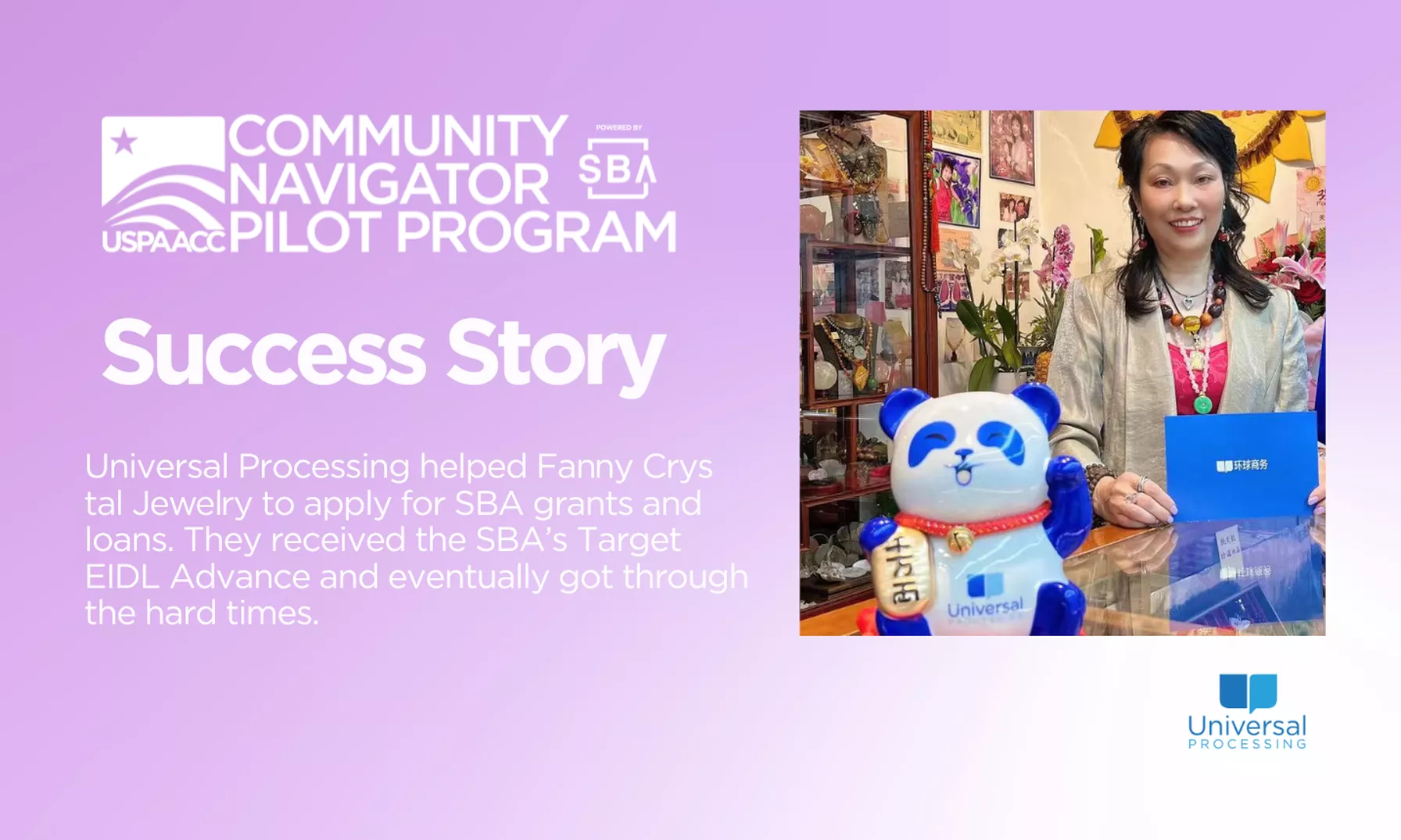 Fan­ny Crys­tal Jew­el­ry is locat­ed on 51138th Ave in Brook­lyn Chi­na­town and has been in the busi­ness of jew­el­ry since 2010. For the past 22 years, Fan­ny and her hus­band Wai had a good rep­u­ta­tion in their neigh­bor­hood. Pri­or to the pan­dem­ic, they were at 51178th Ave. When the pan­dem­ic hit in March 2020, Fan­ny and her fam­i­ly lost their source of income and their busi­ness was forced to remain shut down through August 2021. How­ev­er, their pre­vi­ous land­lord still demand­ed the rent be paid every month. They decid­ed to move to the next door build­ing, where the rent was sig­nif­i­cant­ly cheap­er, and sub­leased space from the entire store­front to reopen. Final­ly, this immi­grant-owned, fam­i­ly busi­ness found a way to survive.
It was an hon­or for Uni­ver­sal Pro­cess­ing to become a Tier 1 Nation­al Spoke for the SBA's Com­mu­ni­ty Nav­i­ga­tor Pilot Pro­gram (CNPP). One of the first mis­sions Uni­ver­sal Pro­cess­ing received from USPAACC was to assist busi­ness own­ers in under­served com­mu­ni­ties to apply for SBAEIDL, Tar­get EIDL Advance, and Sup­ple­men­tal Tar­get Advance Grants and Loans. When busi­ness start­ed recov­er­ing in Decem­ber 2021, Fan­ny called Kai Zhang to reac­ti­vate their cred­it card ser­vice. It was then that Kai learned of the hard­ships and chal­lenges that they had gone through the last two years.
As a CNPP project man­ag­er, Kai Zhang rep­re­sent­ed the com­pa­ny to attend SBA's pro­gram train­ing office hours. Know­ing that Fan­ny Crys­tal would meet the eli­gi­bil­i­ty require­ments for the grants and loans, Kai assist­ed the own­er in the appli­ca­tion process. A month lat­er, Fan­ny Crys­tal Jew­el­ry received $10,000 from SBA's Tar­get EIDL Advance.
A mes­sage from Fan­ny (trans­late from Chi­nese to English):
Hel­lo Zhang,
Thank you so much for help­ing our busi­ness to apply for the gov­ern­men­t's finan­cial sup­port dur­ing the most dif­fi­cult time of the pan­dem­ic. It was final­ly approved in Jan­u­ary 2022. Because we don't speak Eng­lish, we did not know that small busi­ness­es like ours were qual­i­fied to apply. After our call with Zhang, he lis­tened to our sto­ry and informed us that our busi­ness may qual­i­fy for gov­ern­ment assis­tance. He was very pas­sion­ate about assist­ing us to apply with­out ask­ing for any­thing in return. It helped us to even­tu­al­ly get through the hard times. I am grate­ful for Zhang's kind­ness and sup­port and I am grate­ful for the U.S gov­ern­men­t's aid. I am very touched and I want­ed to share this here.
Thank you, thank you, thank you so much.
Best,
The own­er of Fan­ny Crys­tal Jewelry