Article Type

Webinar

Published on
Increase your Sales with Google Business Profile: Google Search and Maps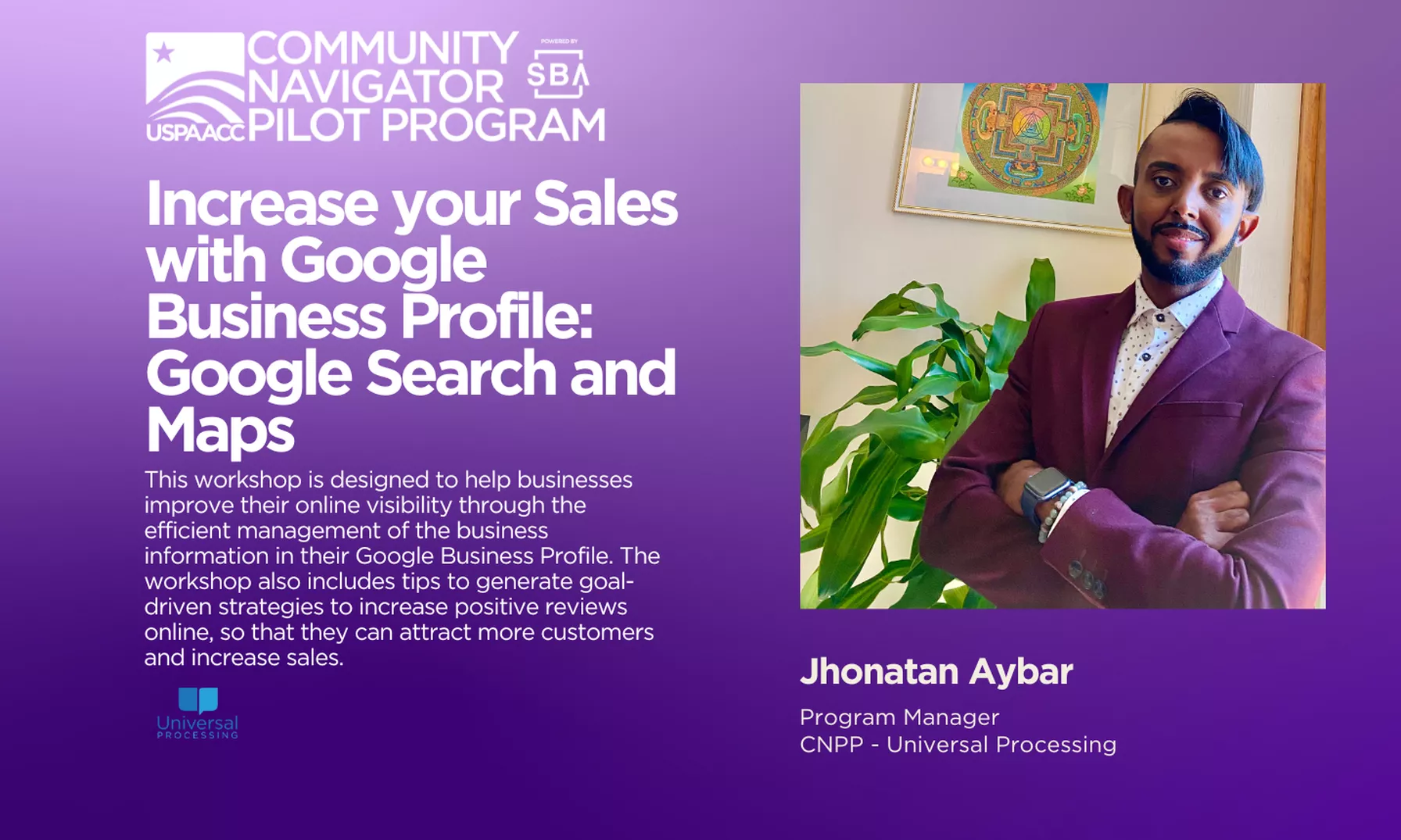 CNPP Nation­al Spoke Uni­ver­sal Pro­cess­ing host­ed this work­shop on Sep 30,2022 and it has 30 peo­ple reg­is­tered. The main con­cept of the webi­nar was to pro­vide mer­chants with basic skills to man­age their Google Busi­ness Pro­file, the impor­tance of dig­i­tal mar­ket­ing to con­nect them with Mar­ket­ing Con­sult­ing resources with­in USPAACC's Net­work of Spokes.
Atten­dees could receive FREE con­sult­ing ser­vices from Uni­ver­sal Pro­cess­ing under the Com­mu­ni­ty Nav­i­ga­tor Pilot Program.

The audi­ence found the con­tent very use­ful. Although the turnout was low due to the short notice, the mer­chants that attend­ed were inter­est­ed in sched­ul­ing indi­vid­ual fol­low up meet­ings to receive help in accessing/​claiming their Google Busi­ness Profile.
Dur­ing the Q&A ses­sion, one of the mer­chants expressed con­cerns about a fraud­u­lent activ­i­ty by a third par­ty that has been request­ing a ran­som to grant the mer­chants access to his Google Busi­ness Pro­file. Uni­ver­sal Pro­cess­ing explained the mer­chant the pro­ce­dure to resolve this issue and sched­uled a fol­low-up meet­ing the fol­low­ing Mon­day. They con­duct­ed the appro­pri­ate research and helped the mer­chant fill­ing a Report of Vio­la­tion of the Busi­ness Pro­file third-par­ty pol­i­cy with Google. The mer­chant was grate­ful for the sup­port. Uni­ver­sal Pro­cess­ing will fol­low up lat­er with the mer­chant, to learn about the res­o­lu­tion Google offer him, and/​or to con­tin­ue pro­vid­ing him with the sup­port nec­es­sary to recov­er his Busi­ness Profile.
Con­tent:

What is a Google Busi­ness Profile?
How to cre­ate a Busi­ness Profile?
How to Man­age Busi­ness Information?
Strat­e­gy to Increase pos­i­tive reviews in Google / Yelp.
Resources