Article Type

Webinar

Published on
Protect your Business Against Risks (Risk Management)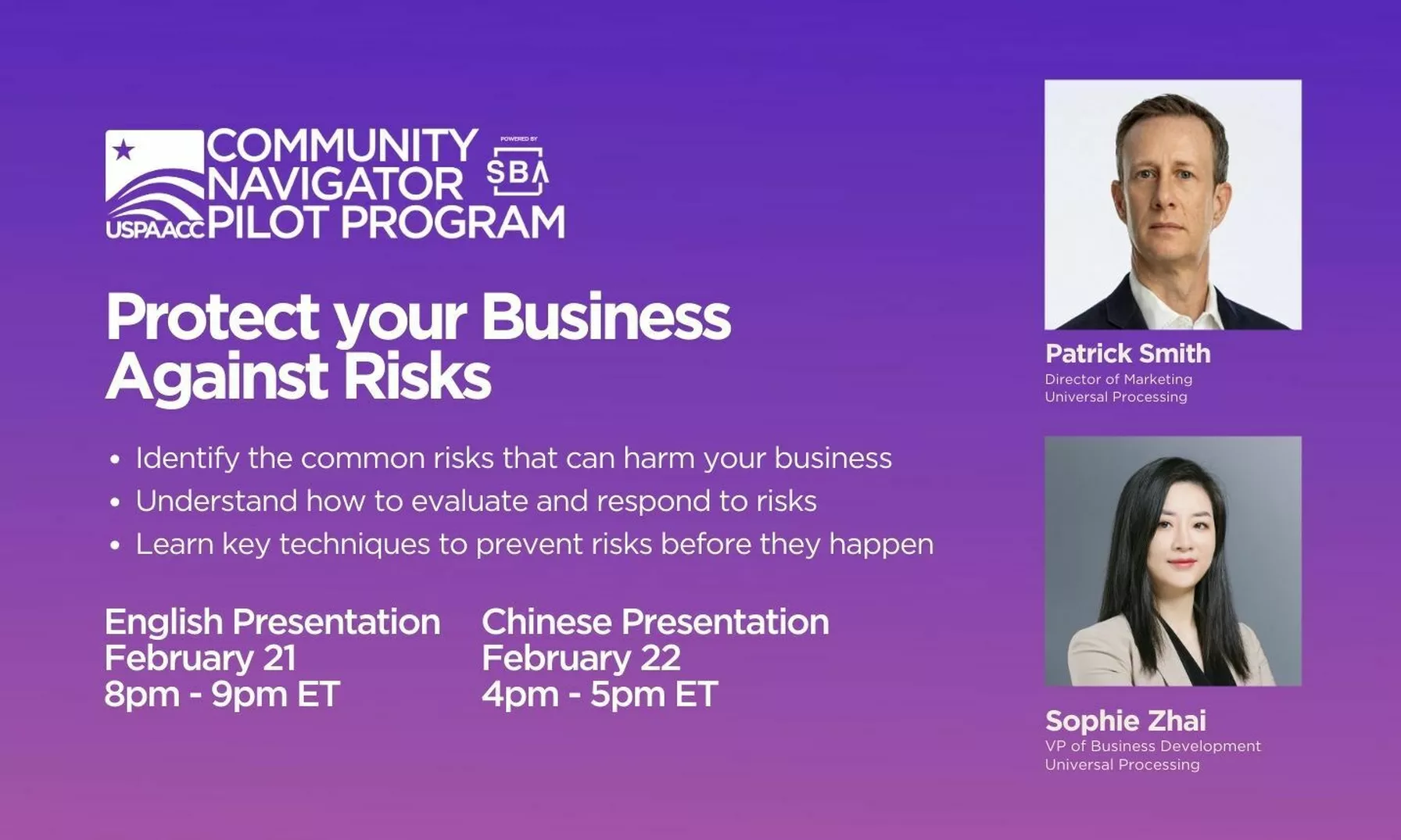 On 02/21/2023& 02/22/2023, our Nation­al Spoke, Uni­ver­sal Pro­cess­ing host­ed a bilin­gual webi­nar (in Eng­lish and Chi­nese) on Risk Man­age­ment. 10 peo­ple attended!
Risk man­age­ment is essen­tial to a healthy busi­ness. With­out it, your busi­ness is vul­ner­a­ble to inci­dents and their effects grow more dras­tic. Risk man­age­ment requires iden­ti­fi­ca­tion, eval­u­a­tion, and mea­sure­ment. You need to be able to iden­ti­fy risks and under­stand what they could mean for your busi­ness. Once you know this, you'll be able to safe­guard your busi­ness against them.
Some ways to safe­guard your business:
Have a busi­ness con­ti­nu­ity plan. Your busi­ness con­ti­nu­ity plan should be a part of your oper­a­tions man­u­al and should cov­er steps for poten­tial short and long-term sit­u­a­tions. For exam­ple, a con­ti­nu­ity plan can cov­er how to use a gen­er­a­tor if the pow­er goes out, man­u­al­ly take pay­ments if online sys­tems fail, or even poten­tial sec­ondary loca­tions if yours is unusable.
Pur­chase insur­ance. Speak to an insur­ance agent to find out more about what risks your busi­ness faces and what assets you can pro­tect with insur­ance. A good insur­ance plan is a great way to pro­tect your finances from unwant­ed risks.
Share your wor­ries with your employ­ees. Shar­ing respon­si­bil­i­ties with employ­ees will allow more peo­ple to care for your busi­ness. If you've iden­ti­fied risks such as faulty equip­ment, theft, or build­ing prob­lems, share your con­cern with your employ­ees. Shar­ing the respon­si­bil­i­ty will allow for more eyes to iden­ti­fy and deal with risks.
These tips can help you pre­vent emer­gen­cies and keep your busi­ness sta­ble. Want to know more about risk man­age­ment and how you can pro­tect your busi­ness? Watch the video to hear indus­try experts lead an offi­cial FDIC/SBA course specif­i­cal­ly designed to help small busi­ness­es succeed.
Con­tact us now for a FREE1 on 1 busi­ness con­sul­ta­tion now.