Article Type

Webinar

Published on
Time Management Strategies for Success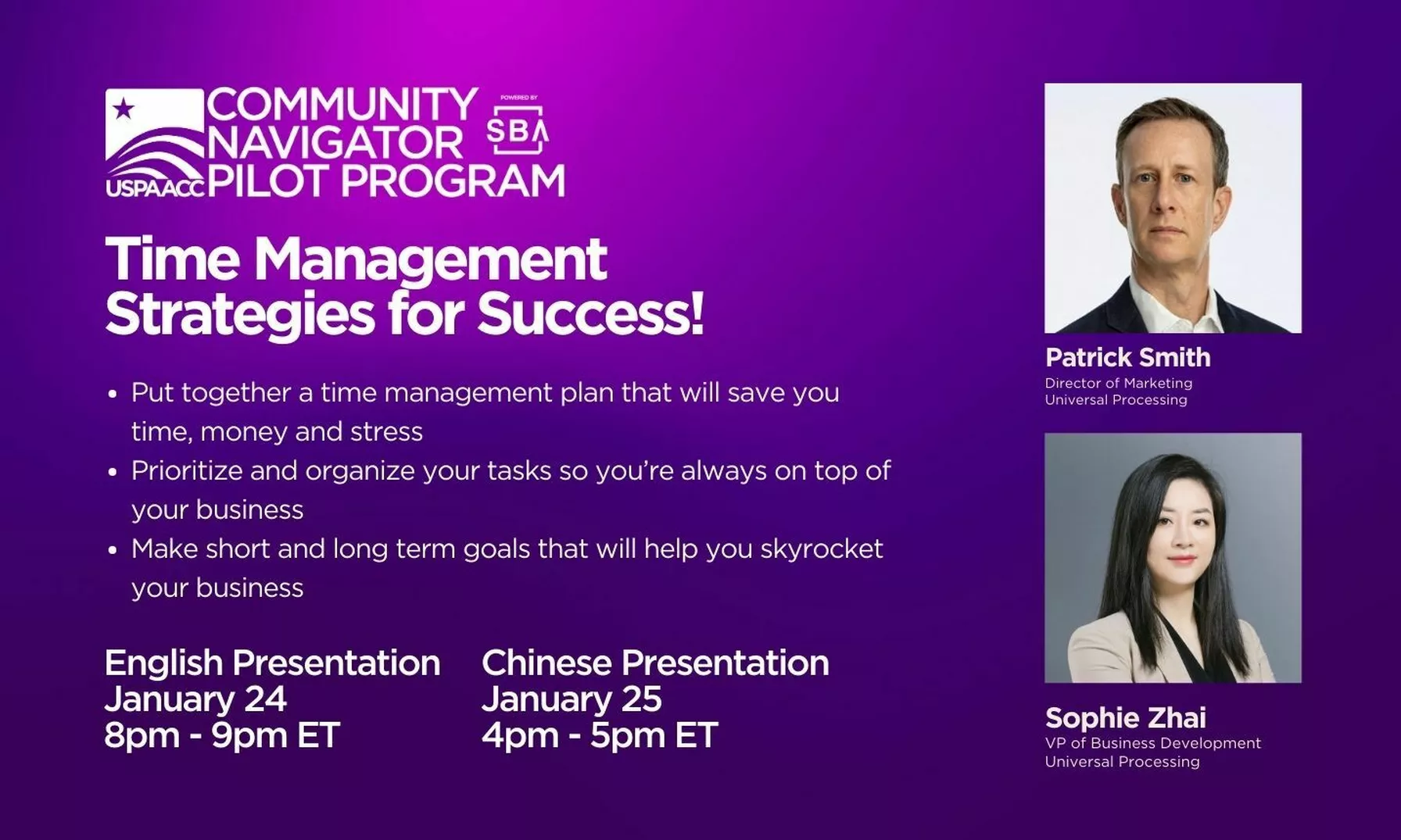 On 01/24/2023& 01/25/2023, our Nation­al Spoke, Uni­ver­sal Pro­cess­ing host­ed a bilin­gual webi­nar (in Eng­lish and Chi­nese) on Time Man­age­ment Strate­gies for the Suc­cess of Small Busi­ness­es. 16 peo­ple attended!
Hav­ing a time man­age­ment plan is as impor­tant as ever, allow­ing you to keep track of your busi­ness while also main­tain­ing a healthy work-life bal­ance. Start off by under­stand­ing your short, mid, and long-term goals and the key tasks need­ed to accom­plish them and allo­cate your time and resources so that you can work towards each goal effi­cient­ly. Opti­miz­ing your time will allow you to fin­ish more tasks in less time, save mon­ey, and work less! Need help craft­ing the per­fect time man­age­ment plan? This Webi­nar can def­i­nite­ly help!
Time man­age­ment tips from indus­try experts
Pri­or­i­tize. Fig­ure out which tasks are most impor­tant and plan your strat­e­gy around them. Find an approach that works for you and stick with it.
Del­e­gate. If you have a staff, use them. Trust in the peo­ple around you and let them help you alle­vi­ate your workload.
Work smarter, not hard­er. Doing every­thing quick­ly is great, but speed isn't the most impor­tant part. Hav­ing strate­gies and plans in place ensures you're always on top of your work.
Report, report, report. Uti­lize dai­ly, week­ly, month­ly, and year­ly reports to break down your process­es and make adjust­ments when needed.
Learn com­mon­ly used prac­tices like the Pare­to analy­sis, the ABC method, the Eisen­how­er method, and the POSEC method. Imag­ine how each could help your busi­ness and fig­ure out which one would work best for you. Learn how to prop­er­ly set attain­able goals and how to pri­or­i­tize tasks in order to achieve those goals. With an offi­cial FDIC/SBA course, time man­age­ment can be a breeze, so stop by and save your time and money!
Con­tact us now for a FREE1 on 1 busi­ness con­sul­ta­tion now.