Article Type

Webinar

Published on
Getting Organized for the Small Biz Boss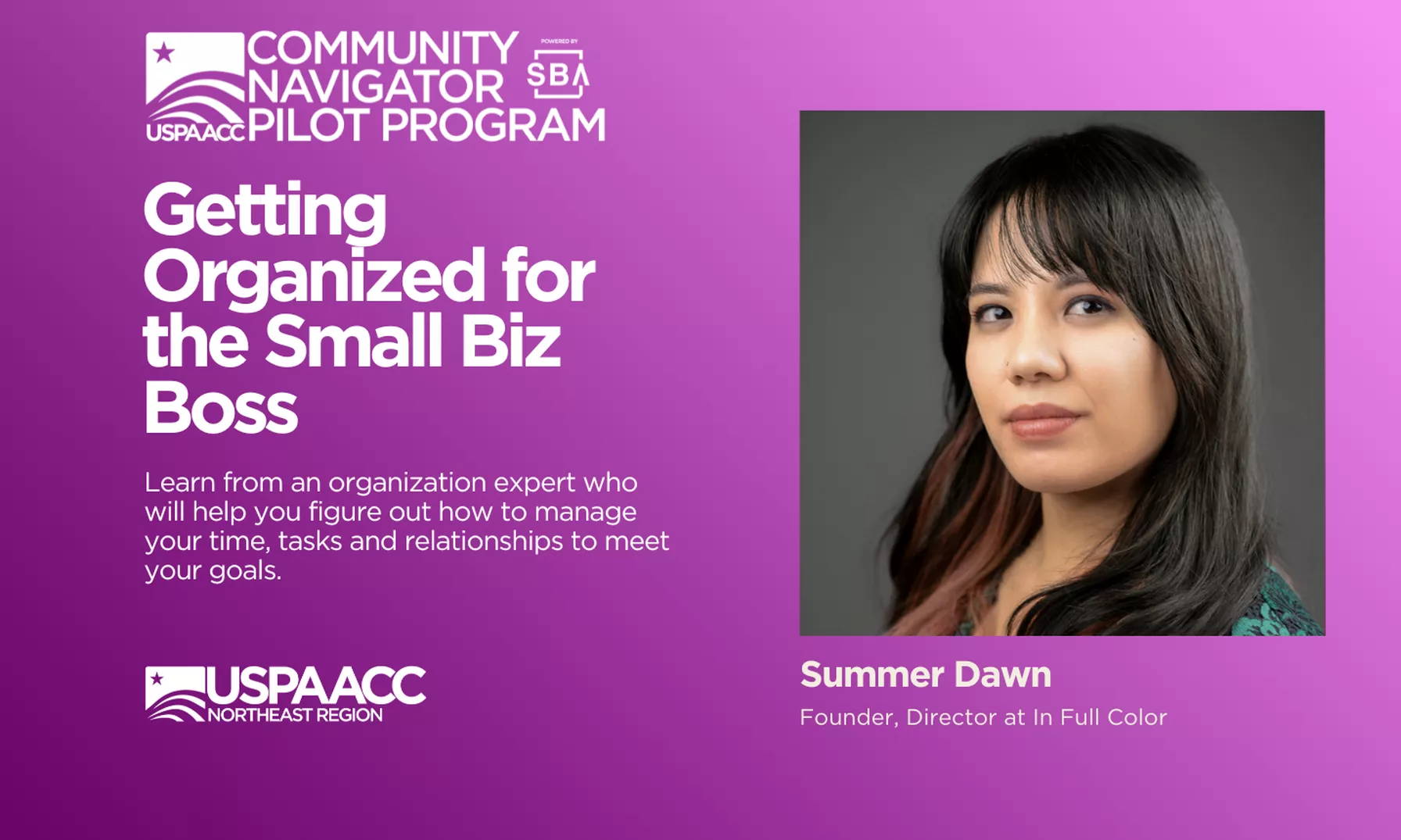 USPAACC North­east Chap­ter host­ed the webi­nar​"Get­ting Orga­nized for the Small Biz Boss" on Tue, Octo­ber 25, 2022, 5:30PM – 6:30PMEDT. The webi­nar had 5 peo­ple attend­ed. The pur­pose of hav­ing this webi­nar was to encour­age entre­pre­neurs and small busi­ness­es to con­sid­er get­ting orga­nized from busi­ness to per­son­al so that their goals are eas­i­ly reached. One of the best moment was towards the end when the atten­dees were com­fort­able to get vul­ner­a­ble about how impos­si­ble it is to do it all by your­self. Also, break­ing down your to do list into spe­cif­ic tasks was a great sug­ges­tion that helped the atten­dees to think strate­gi­cal­ly and realistically.
GET­TINGORGA­NIZEDFORTHESMALLBIZ BOSS
Are you over­whelmed by emails? Is low pro­duc­tiv­i­ty affect­ing your prof­it? Is find­ing a work-life bal­ance impos­si­ble? Sum­mer Dawn, the founder/​director of In Full Col­or, is an entre­pre­neur and orga­ni­za­tion expert who will help you begin fig­ur­ing out how to man­age your time, tasks and rela­tion­ships to meet your per­son­al and pro­fes­sion­al goals.
ABOUTSUM­MER DAWN
Sum­mer Dawn is an Asian/​Hispanic artist based in Jer­sey City. Her orga­ni­za­tion In Full Col­or, which empow­ers artists of col­or through edu­ca­tion and the arts, has received two com­men­da­tions from the New Jer­sey State Assem­bly and the Jer­sey City Arts Coun­cil's Per­form­ing Arts Award. She's also won the N.J. Gov­er­nor's Award in Arts Edu­ca­tion, served as a the­ater grants pan­elist for the Nation­al Endow­ment for the Arts in 2021 and is a teach­ing artist for Young Audi­ences and Sto­ry­telling Arts. She's also an events coor­di­na­tor, arts jour­nal­ist, writer, actor and activist. Vis­it InFull​Col​or​.org or fol­low her @infullcolorus_